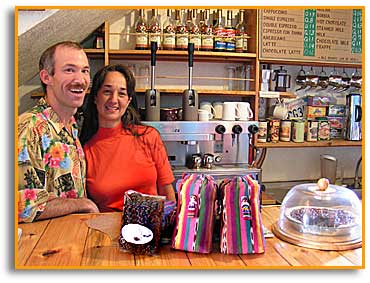 A truly Mom & Pop coffee enterprise! After twenty years of commuting and roasting coffee from Cape Town to San Francisco, Michael and Adele Roberts are now providing a great cup of coffee for weary travelers here by the lake.
We offer a full bar of espresso drinks, and a barista that's worth his name in gold. Our espresso is the real thing -
a blend of Guatemalan, Ethiopian and Indonesian beans. Crossroads pastries are all home baked and have earned a reputation for consistent high quality. A variety of international coffee beans are custom roasted and blended in the shop on a regular basis. These are sold by the pound and make great gifts to take home, especially decked out in a typical cloth bag..